SP20-PW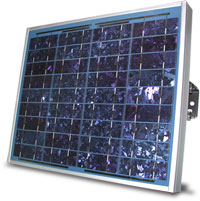 Specifications
The SP20-PW is a 20-W photovoltaic power source capable of recharging batteries.
The cable on this version of the SP20 is fitted with a connector for attachment to a pre-wired enclosure. The connector in the enclosure then leads to a power supply or battery base to recharge the battery, allowing unattended operation of systems in remote locations, far from AC electrical sources.
The SP20-PW provides 20-W maximum peak power, 18-W guaranteed minimum peak power, 1.19-A current at peak, and 16.8 V at peak.
This solar panel is often used for system configurations that have higher than average power requirements. It's also recommended for sites located at higher elevations and latitudes.