Home |

Fluke T5/7-600 Electrical Testers 1AC II VoltAlert
Fluke T5/7-600 Electrical Testers 1AC II VoltAlert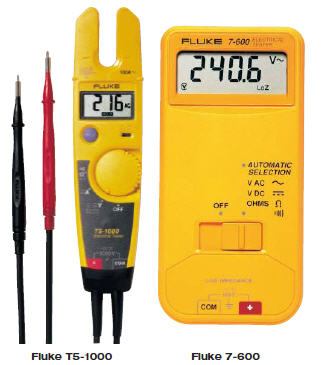 Specifications
Fluke T5-600 and T5-1000 Voltage,
Continuity and Current Testers
The Fluke T5 testers let you check voltage, continuity and current with one compact tool. Select volts, ohms or current and the instrument does the rest. Model T5-600 measures 600 volts AC/DC, model T5-1000 is designed for 1000 volts. OpenJaw™ current technology lets you check current up to 100 A, without breaking the circuit. The optional H5 holster keeps the test probes and leads ready to test and lets you clip the T5 onto your belt.

7-600 Electrical Tester
The easiest way to check AC/DC continuity and resistance is with the Fluke 7-600. The Fluke 7-600 can measure up to 600V AC or DC. Just switch the unit on and it will automatically switch to the correct setting. An input impedance of 2KΩ distinguishes real voltage from voltage caused by leakage or capacitive coupling.