Motorola EP450s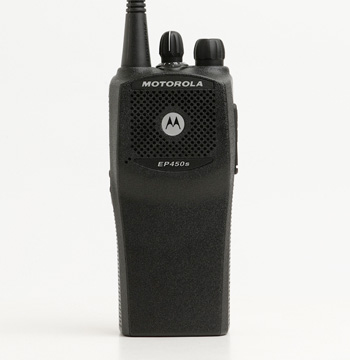 Specifications
Emergency Function - In case of danger or emergency, a long press on the programmable button triggers the MDC emergency feature that immediately transmits an alert.

Lone Worker - Never be left alone at work! Your radio will sound an alert if left inactive for some time, and if you don't respond it will send out an emergency alarm.

Auto-Range Transpond System (ARTS™, a registered trademark of Vertex Standard) - Radios operating on the same frequency can monitor each other's range and are alerted when in or out of the communication range occurs. An exclusive feature of Motorola EP450s radios; also compatible with Vertex ARTS™ radios.

Tone Tagging - Available in both display and non-display models. Allows the Customer Programming Software (CPS) select a Call Alert or a Selective Call Alert from the current MDC – Call List Member.

Busy Channel Lockout - Quick Key Override and Radio Lock Important additional features that enhance safety and will boost your confidence.

PTT-ID and Alias (transmit/receive) - Quickly identify a radio user at the start of the transmission.

Motorola's Voice Scrambling Optional Board - This is a voice encryption feature via a Motorola Branded Optional Board. This feature is used for Voice Inversion Scrambling in analog mode for enhanced secured communications, with two standard codes 3.39KHz and 3.29KHz.

Internal Voice Operated Transmission (VOX) - With the right radio accessory, you can speak and listen without your hands.